Indian Spices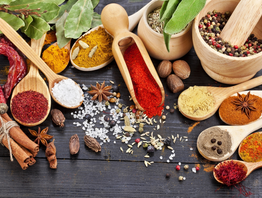 Indian Spice Industry is having a critical challenge to deliver an optimal blend of various Spices, Variety of Seasonings, Powdered Coffee, Drinking Mix. Prasad Pneucon's Pneumatic Conveying System provides efficient & key design solution to critical parameters of Spice Industry like Segregation & Cross Contamination.
Bulk Material Conveying Equipments such as Intermediate Bulk Containers, Feeding & Batch Weighing, Recipe Mixing, Screening & Sorting, Flexible Screw Conveyors provides highly integrated automated system to maintain optimized system with hassle free maintenance.
Prasad Pneucon's integrated convenient conveying systems delivers tailor made operations to Spice Industries. In the spice sector problems can arise from pesticide application, drying processes, storage/transportation, climate/weather conditions where Prasad Pneucon delivers its turnkey solutions to meet the food legislation, customer & consumer demands.
Benefits & Technical Specifications


Elimation of manual intervation


Recipe secrecy


Consistency in Blended Spices


No spillage & Dusting


Integrated with packaging machine


Recipe Storage and Report Generation


Related Products